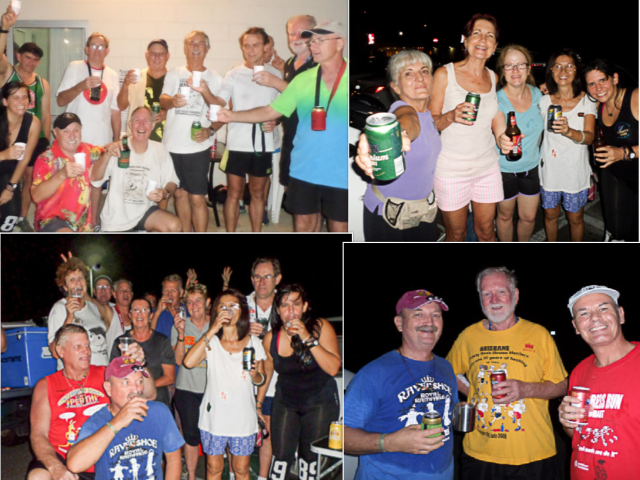 Welcome to the Trinity HHH Website. Trinity Hash House Harriers shares the beautiful city of Cairns, North Queensland, with Cairns HHH.
Trinity HHH runs every Tuesday evening at 5.45pm. The club takes its name from Trinity Bay on which Cairns is situated. It is a mixed club with a very social atmosphere, and visitors are welcome. You will find a Hash house Harrier club in most major cities and the emphasis is on exercise and fun - with a reward at the end! You can find out more about Hash House Harriers here. The Trinity HHH club is open to people 18yrs and up. No animals permitted.
You are welcome to just turn up at the run venue at 5.45pm and introduce yourself - but be prepared for a walk or a run of 4-7 km around the beautiful Cairns region. The walk/runs usually take about an hour and the hares (runsetters) usually make an effort to make it interesting. After the walk/run there is some social drinks and a meal.
Run information is available from the Receding Hareline page or by phoning the Trail Master, (Phone Numbers Here). The bargain basement cost is $12 which includes Nosh (a meal) and several drinks. The weather in Cairns is warm to hot most of the year which adds to the enjoyment of a few social drinks after the runs. The wet season from Christmas to Easter provides some great shiggy (off-pavement running) as there is extra light!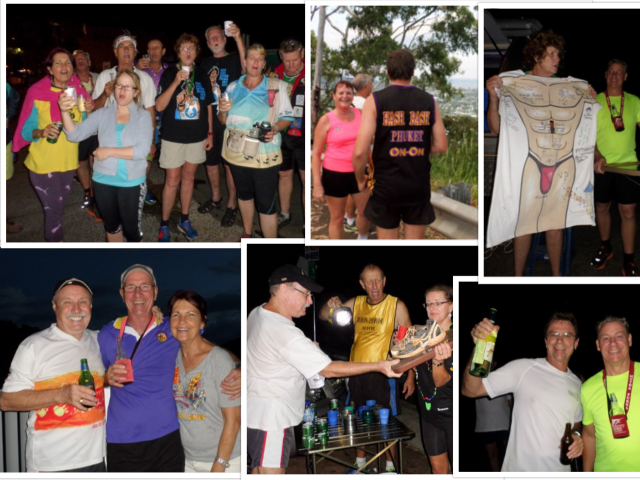 As well as our weekly runs on Tuesday Evenings, once a year we usually have a celebration run where hashers from far and wide come to the region to try some Hashing "Trinity style". Our 1000
th
Run was held on September 18-20 1998, and many early runners turned up to celebrate the event.
Our EXTRAVAGANZA 2000
th
Run is scheduled for August 25-27, 2017 up at Lake Tinaroo.
Check out photos and write-ups from our latest runs on the Past Run Archives page.
On On ... Pythagorarse.
Rules/Traditions of Trinity Hash House Harriers
Objectives:
to encourage physical fitness amongst its members
to prepare for or extend weekend hangovers
to acquire a good thirst and to satisfy it with beer
to persuade the older members that they are not as old as they feel
These objectives are met through a hash run, pursuing a trail of chalk (or flour, or paper) set by the nominated hare(s), followed by a circle (run by the GM), some nosh (a meal) and social drinking.
Rules/Traditions:
The Grand Master (GM) is always right
When the GM is wrong, Rule 1 applies
The penalty for any transgression is one Down Down, when the offending hasher will drink an appropriately sized refreshment to the accompaniment of a Hash song
Hash songs are a part of the celebration of Hash. They usually consist of a short verse (of a bawdy nature!) with an encouragement for a down down at the end. All members of Trinity Hash are encouraged to know at least one song by heart as the GM may call on you to lead the pack with the joy of a Hash song. Many Hash songs can be found here . The inability to come up with a song will be awarded with one Down Down

The GM (sometimes with help from the Religious Adviser (RA) will check for proper behaviour before, during, and after the run and between runs. It is left to the discretion of the GM to whether they will ignore any offence or make a charge during the "circle"
Any one having knowledge of a transgression by a fellow hasher may make a Charge during the Circle at the GM's discretion. A charge may be defended with another charge - but generally there is 'NO RIGHT OF REPLY' - a Down Down will result, either way, unless the GM decides otherwise
After completing at least three runs a new hasher will be given a Hash Name. The hasher will subsequently be known only by their hash name during the run and subsequent activities - Failure to observe this rule will result in a Charge
At more or less regular intervals, every hasher is asked to set a run. Since being a Hare is a great honour, refusal is neither anticipated nor accepted. If the run is considered passably good the Hares will be awarded a score and a Down Down, if the run is considered to be below standard for Trinity HHH the Hares will be awarded a negative score and a Down Down with shame (i.e. on their knees)
Short cutting is allowed, being caught short cutting is a chargeable offence
The Trinity Hash has certain standard forms of communication:

When on the trail (either chalk, paper or flour), shout "On On"
When confronted with a check, shout "Checking"
When confronted with a False Trail , shout "False Trail'
When the trail has been found again, shout "On On" (or "On Back" if communicating to hashers checking other possible routes)
Shout obstacles, e.g. "Hash Log", "Hash Fence", "Hash Car", etc

Stationary checking is a skill that is usually mastered by older hashers. However, a refusal to check when so requested by the GM will result in a Charge
The basic idea of Trinity Hash is to have a non-competitive run through the local habitat in order to acquire a thirst for beer that should already exist! Aggressive running is therefore a serious offence
The GM can add, delete, or change any Rule at anytime. No public announcement will be deemed necessary and any transgression will still result in a Charge
The Hash is democratic and fair but will obey the GM in all matters
Thus end the current Rules of the Trinity Hash House Harriers (with occasional latitude for new hashers!!)
History of the Hash House Harriers

This letter was addressed to the Kuala Lumpur HHH in 1958 by Cecil Lee, one of the co-founders of the Hash House Harriers. He was a regular harrier 1938-41, and after the war, 1946-51, then in Borneo for three years before returning to KL to finish his hashing 1954-57.
"The Hash House Harriers were founded in a moment of post-prandial inspiration at the Selangor Club Chambers in late 1938, by the inmates, who included myself, "Horse" Thompson, EJ Galvin, HM Doig and AS Gispert ("G").


Gispert was the real founder – a man of great wit and charm, who was killed on Singapore Island in February 1942 whilst serving with the Argylls having only just returned from leave in Australia to rejoin the volunteers.


I am glad of this opportunity to salute his memory. He was a splendid fellow and would be happy to know the Harriers are still going strong, and are as merry and bright as ever - or more so.


Gispert was not an athlete, and stress was laid as much on the subsequent refreshment etc. as on the pure and austere running. It was non-competitive, and abounded in slow packs. Life was then conservative rather than competitive.


The name was a mock allusion to the institution that housed and fed us. Later "Torch" Bennet returned from leave, and produced order out of chaos - a bank account, balance sheet and some system. But we pride ourselves on being rather disorganised - or the minimum organization sufficed.


The original joint masters were myself and Horse Thompson, still running somewhere – a past master at short cuts and the conservation of energy.



We started up again after the war due to Torch Bennet who discovered a Bank Balance and put in a claim for War Damage on one tin bath, and two dozen mugs and two carrying bags. We started by a small run in reduced circumstances around the race course - then the horses were not much better. The Emergency cramped our style but did not diminish our activities, and we were called in for information on various by-ways in Selangor , but our usefulness to MI5 was brief, and our information probably otiose. But the hares ran into two Bandits at Cheras, who were later copped.



An Irish accountant Kennedy, drew up the Rules we had to register as a club, and he seems to have preserved the old traditions just as you do now.



Selemat Tinggal HHH (Cecil Lee, KL, 24 October 1958)"
From these solid roots of the "Mother" Hash, Kuala Lumpur Hash House Harriers, the hashing fraternity later spread. Singapore Hash House Harriers was founded by ex-KL members in 1962, and thereafter spread rapidly, some 18 Hashes being formed in West and East Malaysia as well as Australia in the next few years. The first in Australia was Perth HHH in 1965, then Hobart HHH in 1967, followed by Sydney HHH a week later. The first European Hash was in England, Longmoor HHH in 1970, followed the first Hash in Africa, Durban in late 1971 and the first in the Americas was in Washington six months later. There are now over 1000 Hashes around the world in 100+ different countries, and Interhash , held every two years, attracts over 5000 hashers. The last Interhash was held in Bali 2016 and the next one is being held in Fiji in 2018